Natural Resources Department

Mission Statement
The mission of the Natural Resources department is to manage, protect, and conserve those natural resources that are required to sustain healthy populations of fish, shellfish, and wildlife within the Stillaguamish Tribe's U&A (Stillaguamish Watershed).
History
The Stillaguamish Tribe's Natural Resources Department came into being as a result of U.S. v. Washington, Civil 9213,  known as the Boldt Decision of 1974. In this case, which was affirmed by the U.S. Supreme Court, Puget Sound Indian Tribes who signed treaties with Isaac Stevens in the late 1800's retained the right to take up to 50% of all harvestable (beyond what is required to ensure reproductive success) fish and shellfish resources within their respective Usual and Accustomed (U&A's) fishing areas. Because the welfare of the Treaty Tribes is the responsibility of the U.S. Government (Trust status), it became the responsibility of the Bureau of Indian Affairs (BIA) to manage fish, shellfish, and other natural resources for the benefit of the Tribes. Understanding the benefit of having each Tribe manage its resources, the BIA entered into contracts with the Tribes to provide management of fish and shellfish resources within their respective U&A's.
Back to the Top of the Page
Environmental Program
Restoration Projects
Riparian Projects
The riparian restoration program has been an ongoing and cooperative effort for more than 10 years, often partnering with other organizations who also conduct riparian restoration. Project work sites are located on Tribal, public, and private land.
Our mission is to expand and enhance stream side forests throughout the Stillaguamish River Basin to benefit fish and wildlife.
Healthy riparian forests along streams and rivers provide benefits to fish and wildlife, and by extension, to residents of the Stillaguamish Basin.
Riparian forests are a key contributor to healthy freshwater habitat for salmon and steel head. Riparian forests provide large woody debris for salmon to rest, hide and find food in. They also provide shade, keeping the waters cool and oxygen rich. Riparian forests also provide homes for game and non-game wildlife as well as food for animals to forage.
Many plants found in riparian forests provide healthy, delicious foods and medicines for humans. As riparian forests increase the benefits they provide will increase as well.
The activities that the riparian restoration program conducts can be summed up simply as stewardship of the land and water. Those activities include:
Native plant seed collection
Native vegetation plantings
Noxious and invasive weed control
Fence construction to exclude livestock from water bodies
Garbage removal
Volunteer opportunities
If you are a concerned stream-side land owner and would like to find ways to improve your properties fish and wildlife habitat please contact the departments Riparian Ecologist, Jason Anderson, at janderson@stillaguamish.com or 360-631-7391
In-Stream and Estuary

Why do we build logjams?
Large woody debris is an important component of riparian and in-stream habitat. It provides cover, habitat complexity, and a source of food for aquatic insects,  themselves sources of prey for salmon. Cover is an important element in habitat used by Chinook salmon. Cover is defined as depth, large substrate, overhanging vegetation, undercut banks, woody debris, floating debris, and aquatic vegetation. In the Pacific Northwest, a key  factor in complexity is large woody debris (LWD). LWD is generally meant to describe fallen riparian wood pieces that exhibit both large size (often >50 feet in length or >24 inches in diameter) and found in complex wood jams. Once in the stream, the wood pieces are the basis for essential channel complexity and side channel formation. LWD creates both micro- and macro-habitat features, and is an important component throughout the drainage network from head water streams to estuaries.
Fisheries Program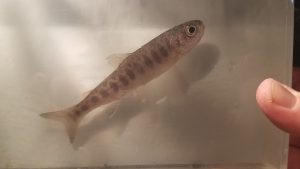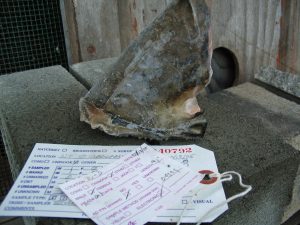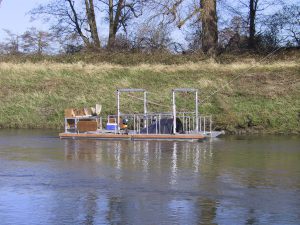 Harvest 101
 In order to work toward successful salmon recovery, a broad number of tasks must be undertaken by our team.  These tasks include: monitoring, research, surveys, broodstocking, policy development, determining restoration priorities.
Hatcheries – Production of Future Generations of Fish
The tribe is responsible for releasing 200,000 wild origin Chinook back into the river system every year. In 1990, the North Fork hatchery expanded the hatchery program by serving as an off-site rearing satellite hatchery for about 50,000 Coho salmon until they smolt and are ready to be released. Annually, the hatchery and fisheries employees educate 500-1500 students in local school tours regarding hatcheries and salmon.  Chum salmon is used to exhibit educational categories consisting of: anatomy, habitat, spawning, incubation, water quality, and feeding.
The National Marine Fisheries Service (NMFS) has recently recognized the Tribe's Chinook Natural Stock Recovery Program as essential for the recovery of Endangered Species Act listed Puget Sound Chinook. The tribal Chinook program is one of only six out of 100 hatchery programs that NMFS has acknowledged as critical for recovery.
Hatchery Manager is Garrett Gertz and can be reached at ggertz@stillaguamish.com
Water Resources Program
About the Water Quality Program

Since 1994, the Stillaguamish Tribe has been involved in monitoring the water quality in the Stillaguamish Watershed as part of their efforts to recover salmon. The Tribe has worked cooperatively with federal, state, and local governments in order to attain a coordinated process to spot potential water quality problems. However, problems continue to occur as more demands on surface and ground water increase. As a result, water quality is often degraded from point and non-point sources. The Stillaguamish Natural Resources Department has developed a monitoring project plan for the Stillaguamish Watershed in order to ascertain problem sites and shares its data with other agencies and parties involved.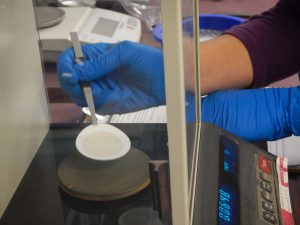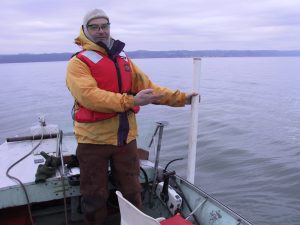 The Stillaguamish Natural Resources Department maintains an accurate water quality database for selected sites on the North and South Forks and selected tributaries, the Main stem and selected tributaries, and Port Susan. The Department collects a variety of water quality data. Currently, water quality samples are collected on a quarterly basis. Water quality data such as temperature, conductivity, dissolved oxygen, turbidity, total suspended solids, alkalinity, hardness, and fecal coliform are among the parameters the Stillaguamish Natural Resources Department collects and shares with other agencies.
Fresh Water
Click here to view the most recent Water Quality Trend Report
Stream Flow
The Stillaguamish Tribe is in the process of setting minimum instream flows in the Stillaguamish Watershed (WRIA 05). The Tribe is working with the Washington Department of Ecology, Washington Department of Fish and Wildlife and the Tulalip Tribe to determine flows that are needed to be maintained instream for salmon and steelhead during all life stages. Part of this process is monitoring actual stream flow in critical subbasins to inform decision makers on the flow of the water. The WDOE has received funding to put in 12 stream gages (8 telemetry real time gages, and 4 staff gages) in the Stillaguamish Watershed for the WRIA 5 Enhanced Stream Flow Monitoring Project. The following link is to Ecology's web site which has access to view all of the stream gages Ecology operates in the Stillaguamish Watershed.
Puget Sound Chinook were listed as threatened under the Endangered Species Act (ESA) in 1999. In 2005, local stakeholders in the Stillaguamish developed a Chinook Recovery Plan that detailed six factors limiting Chinook salmon populations: riparian, estuary/nearshore, large woody debris, floodplain, sediment, and hydrology.Of all the limiting factors in the plan, hydrology is perhaps the least understood, though local scientists have known for years that there is a trend of increasing peak flows in the Stillaguamish, though only in the North Fork (figures below).The Tribe was award funds from EPA in 2010 to investigate the drivers behind the trend of increasing peak flows, and produce an online tool for watershed stakeholders to use when planning restoration projects aimed at improving hydrologic conditions.
Data collected on the Tribe's mainstem smolt trap has directly measured the effects of peak flow events on survival of Chinook juveniles (figure below).High flows kill eggs in the gravel, and if the trend is for flows is to increase, Chinook survival will decrease.Much of the habitat work being undertaken along the river and in the estuary will be negated if Chinook don't survive to emerge from the gravel each winter.
The EPA funded research project will investigate and identify the drivers of peak flows in the Stillaguamish, separate climatic from anthropogenic influences, and develop a protection and restoration framework designed to minimize and mitigate impairments to the hydrology of the Stillaguamish.In addition, the proposed project will incorporate climate change predictions when predicting how the hydrologic drivers will change in the future.In addition to helping implement the Stillaguamish Chinook Recovery Plan, this project addresses near term actions and priorities in the Puget Sound Partnership's Action Agenda Status Update.
September 2013

A consultant has produced landcover classifications for the entire watershed for three time periods: 1954, 1987, and 2011.These classifications have been handed to our partner NOAA who will do the modeling work necessary to determine which factors are behind the trend of increasing peak flows.We have been negotiating with another partner, Forterra, to take the modeling results and turn them into a GIS tool for watershed stakeholders to plan hydrologic restoration actions.This GIS work is slated to take place in November of 2013.
For any questions regarding this research please contact Jason Griffith at jgriffith@stillaguamish.com.
Marine Stewardship & Shellfish Management
The Stillaguamish Tribe takes pride in its efforts to protect and monitor the health of Port Susan. The Natural Resources Department participates in several regional programs as part of this effort.
Marine Water Quality Monitoring for Shellfish Growing Areas
The Tribe is a partner with the Washington Dept of Health in monitoring whether shellfish are safe to eat in Port Susan. Tribal staff collect water quality data and water samples monthly from 16 sites in Port Susan for fecal coliform analysis. The Port Susan growing area was re-approved for commercial shellfish harvest in 2010, for the first time since 1987, but remains threatened with downgrades due to occasional spikes in contaminants. The Warm Beach area remains prohibited from commercial shellfish harvest because of the waste water treatment plant. Kayak Point Park is open to recreational shellfish harvest, unless closed due to seasonal toxins in the water.
Click here to learn more about the WA Dept of Health Shellfish Program.
Beach Environmental Assessment Communication and Health Program (BEACH)
As a partner in the BEACH Program, from Memorial Day to Labor Day each year, the Tribe collects weekly water quality data and water samples at Kayak Point County Park. These samples are analyzed by the WA Dept of Ecology for the presence of bacteria harmful to human health. The mission of the BEACH Program is to reduce the risk of disease for people who play in saltwater.
Learn more about the BEACH program at this link: http://www.ecy.wa.gov/programs/eap/beach/.
Sound Toxins
As a Sound Toxins partner, the Tribe will collect and identify phytoplankton throughout the year at Kayak Point State Park. Administered by the Northwest Fisheries Science Center, the Sound Toxins program aims to provide sufficient warning of harmful algal blooms and toxic algae events to enable early or selective harvesting of seafood, thereby minimizing risks to human health and reducing economic losses to Puget Sound fisheries. This is important because many areas in Port Susan are now open to recreational, subsistence, and commercial shellfish harvest. Kayak Point is one of 24 sampling sites throughout the Puget Sound.
Plankton2016 Plankton2017 Plankton2018 Plankton2019
Click to learn more about Sound Toxins
Port Susan Water Quality Monitoring Buoy
The hydro lab is located on a buoy stationed in the middle of Port Susan. It collects hourly information on salinity, temperature, dissolved oxygen, chlorophyll, conductivity and pH. This information will be used in Stillaguamish Chinook salmon forecasting models and is available to the public and researchers. However, we are no longer transmitting data hourly so this data is no longer available via the Northwest Association of Networked Ocean Observing Systems (NANOOS) Visualization System (NVS).
The Stillaguamish Tribe recognizes the value of the hydro lab for marine water quality monitoring beyond its usefulness for Chinook forecasting and hopes to operate the remote hydro lab indefinitely as part of its Marine Stewardship Program.
To visit the NVS/NANOOS website to view other marine buoy data, click here.
The Port Susan Remote Hydrolab Project
The hydrolab is stationed on a buoy located in Port Susan. It collects hourly information on salinity, temperature, chlorophyll, dissolved oxygen, total dissolved solids, conductivity, and pH. This information will be used for Stillaguamish Chinook Salmon return forecasts, and it is available to the public and researchers via the NANOOS oceanographic network. The

Stillaguamish Tribe recognizes the value of the hydrolab for marine water quality monitoring beyond its usefulness for Chinook forecasting and hopes to operate the remote hydrolab indefinitely as part of its Marine Stewardship Program.
The Port Susan Remote Hydrolab project was designed to improve the information available on estuary conditions which impact juvenile Chinook survival. The information collected will be used in the stochastic Environmental Model to Predict Adult Returns (EMPAR) of Chinook salmon.
Developed by Jason Hall, the EMPAR model is currently being used as an alternative forecasting tool for preseason estimates of anticipated salmon escapements (adult returns) of Endangered Species Act (ESA) Threatened Stillaguamish Chinook salmon. The model has shown a high level of correlation with estuary and nearshore conditions, indicating they are major drivers in predicting salmon returns. The model substantiates existing research that first year environmental conditions in the nearshore strongly influence the overall survival of a given outmigration group. Currently the EMPAR model uses oceanographic data from the Washington Department of Ecology (DOE) Marine Water Quality Program to characterize marine conditions during nearshore and delta residency periods.
While data from the DOE monitoring program provide useful metrics for the nearshore residency periods, the closest DOE core station is located approximately 24.5 km south of the Stillaguamish River estuary in Possession Sound, and is in closer proximity to the Snohomish River estuary than the Stillaguamish. The Port Susan hydro lab provides delta and nearshore metrics specific to juvenile Stillaguamish River Chinook, as well as greater temporal resolution. After five years of data has been collected, it will be incorporated into the EMPAR model for Stillaguamish Chinook forecasting. This data will also be correlated with existing Puget Sound and North Pacific oceanographic data to further improve the predictive capacity of our alternative preseason forecasting model for Stillaguamish Chinook.
Data from the Port Susan hydro lab can be viewed at NANOOS (Northwest Association of Networked Oceanographic Systems)
Tribal Response Program

The Stillaguamish Tribal Response Program (TRP) was established by a federal grant from the Environmental Protection Agency (EPA) to assess, cleanup, reuse, and prevent brownfields throughout Stillaguamish Tribal properties. These brownfields, as described by the EPA, are properties in which redevelopment or reuse is complicated by the real or perceived presence of hazardous materials. Possible brownfields can include, but are not limited to: illegal dumps, areas of historic industry, and underground and/or leaking underground storage tanks. Cleaning up brownfields is important for the protection of human health, environment, natural resources, and culturally significant areas within the Tribe's Usual and Accustomed areas.
The TRP and associated state brownfields program are funded and supported through the Federal Brownfields Revitalization Act. This Act provides the tools and grants necessary for the public, private, and tribal sectors to promote sustainable brownfields cleanup and reuse. One main difference between the TRP and state brownfields program is that the TRP permits redeveloping brownfields for culturally beneficial uses, such as restoring shellfish beds or salmon habitat.
EPA Requites a Four Elements Response
The EPA requires the response program to include or take reasonable steps to include the four elements, listed below. Achieving these elements is a top priority as doing so will demonstrate the capacity of the program to properly address and cleanup brownfields.
1. Timely survey and inventory of brownfields sites in state or tribal land. This will require the TRP to develop a system or process to document real or perceived brownfields and publish site information in a public record.
2. Oversight and enforcement authorities or other mechanisms and resources. The TRP must provide oversight or enforcement authority to ensure human health and environment will be protected in accordance with applicable laws. This enforcement authority must also ensure failed responses are cleaned up, in addition to implementing long-term monitoring strategies and site maintenance.
3. Mechanisms and resources to provide meaningful opportunities for public participation. This requires the Tribe to have an open, public record of all TRP documents. There also must be public hearings to discuss cleanup activities, including site prioritization, which will be announced with prior notice. Lastly, a pathway or mechanism (e.g. a form) must be available for community members who have been or are concerned about being exposed to hazardous substances from suspected brownfields. Once submitted, the designated TRP official must consider the request to perform a site assessment and appropriately respond.
4. Mechanisms for approval of a cleanup plan and verification and certification that cleanup is complete. The TRP must have documented protocols to describe the process of approving cleanup plans and verifying response actions are complete.
Public Record
The Public Record for the Stillaguamish TRP is maintained by the TRP Coordinators and can be found in the Reference Library at the Stillaguamish Tribe Natural Resource Office, daily from 8 am to 4 pm. Information currently contained in the Public Record includes an inventory of brownfields, completed site assessments,
and on-going cleanups. The Public Record is regularly updated as information becomes available. For any additional information regarding the TRP, Public Record, or reporting suspected brownfields, please contact the TRP Coordinators, Jody Brown (jbrown@stillaguamish.com) or Rainer Luhrs (rluhrs@stillaguamish.com).
Reporting a Potential Brownfield
If you suspect a brownfield exists or request a site assessment be conducted, fill out this form and email it to the TRP Coordinators, Jody Brown and Rainer Luhrs. If site pictures are available, please attach them to the email. In the subject line please write 'Reporting a Potential Brownfield'.
Important: Make sure to download the PDF form before entering information on the form.
Contact Us:
Stillaguamish Tribal Response Program
Coordinators: Jody Brown (jbrown@stillaguamish.com) and Rainer Luhrs (rluhrs@stillaguamish.com)
Stillaguamish Tribe Natural Resources Department
22712 6th Ave NE
Arlington, WA 98223
Monday-Friday, 8 AM to 4 PM
Back to the top of page
Back to the Top of the Page
HUNTING RULES AND REGULATIONS
Outreach and Education Programs
Wildlife Program


The Stillaguamish Tribe's Wildlife Program manages for healthy and sustainable wildlife populations throughout the Tribe's ceded area to protect treaty resources for future generations. Staff conduct wildlife population and forest health studies to inform harvest management and target areas for habitat improvement and conservation.
Wildlife Team Members participate in projects that benefit both game and non-game wildlife species and work cooperatively with tribes, federal and state agencies, and environmental organizations throughout Washington State.
 Conservation of wildlife includes:
Preservation/protection of all species

Enhancement of wildlife habitat

Management of wildlife problems

Consumptive use of wildlife
The Tribe partners with Tulalip Tribes on elk enhancement work in Game Management Unit 418. The goal is to recreate the Bear Creek elk enhancement site to provide foraging habitat for the Nooksack elk herd, and hopefully decrease elk damage in the Lyman/Hamilton area.
Current Projects Include: 
North Cascades Elk Heard Management
Mountain Goat Population and Habitat Monitoring
Shorebird and Waterfowl Monitoring
Forest Health
Wildlife Enforcement
Report a Poacher
Wildlife Enforcement Officer Jeff Graves at 360-618-3788
Captain Bill Hebner  (360)618-3521
FISHING RULES AND REGULATIONS
2019 Stillaguamish Tribe Pre-season Fishing Regulation
Hunting Harvest Reporting
Harvest reporting for each tag is Mandatory whether an animal is harvested or not per Stillaguamish Tribal Fishing, Hunting and Gathering Code:
Chapter 3, Section 18 a & b.
Hunters have 10 days to report a successful harvest of Deer, Elk, Bear and Cougar. Hunters have till April 10th to report successful waterfowl harvest, species and numbers. Hunters have till April 10th to report on all tags regardless of whether an animal is harvested. Failure to report by April 10th on all or any permit will result in the hunter not being eligible for hunting permits the following hunting season. The following information needs to be included in your report:
Reporting date, tag #, harvest (yes or no), Hunters Name and enrollment number, Game species, sex, tag#, AP, harvest date, GMU, location.
Download this fillable harvest report form: Harvest Report . Save it to your computer first, fill it out and submit via mail or email.
Harvest reports can be submitted the following ways:
1.General mail: PO BOX 277 Arlington WA 98223 Attn: Jen Sevigny
2.Email report to harvestreport@stillaguamish.com please use "harvest report" in subject line.
For assistance please contact Jen Sevigny @ 360-631-2372, Shawn Yanity @ 425-359-7922, Jesse Pecor @ 360-322-9293 or 
for website issues Tamara Neuffer @ 360-547-2687.
Derelict Fishing Gear
 Abandoned or lost pots continue to fish indefinitely, killing as many as 40 crabs per pot annually. In Port Susan alone, 24000 crabs may be killed by derelict pots each year.
Northwest Straits Foundation just led the development of a "Puget Sound Lost Crab Pot Prevention Plan."  This plan, developed under the guidance of multiple stakeholders, identifies key strategies and actions that can be taken over the next three years to stem the loss of crab pots and prevent the impacts of lost fishing gear.
You can download the Puget Sound Lost Crab Pot Prevention plan
To report derelict gear: www.derelictgear.org or call 360-428-1084. You will not be prosecuted for reporting lost gear.
The Stillaguamish Tribe is part of the West Coast Governor's Agreement for Ocean Health. Wildlife biologist Jen Sevigny is on Marine Debris Action Team and is helping draft an action plan for the three state governments (California, Oregon, Washington). For more info, please see West Coast Ocean Partnership
 REPORTS
FAQs
What Is Derelict Fishing Gear?
Derelict fishing gear are the nets, lines, crab pots, and shrimp traps or other equipment that is abandoned or lost from fishing vessels and left unattended in the marine environment. Since modern nets (1940s onward) and fishing line are made of a monofilament plastic, much of the derelict fishing gear doesn't decompose in the water for many years, from decades to hundreds of years. Intact nets from the 1970s have been found still killing animals.
What is the threat?
Abandoned or lost gear is a threat to wildlife, humans, and boating vessels. Derelict net and pots have been shown to kill hundreds and thousands of animals, including shellfish, birds, fish, and mammals. As each animal dies in a piece of gear, it essentially rebates itself, drawing new animals, which in turn die. Thus the cycle of death feeds on itself and is continuous. Divers have also fallen victim to derelict gear. Even those attempting to salvage gear have become tangled and killed. Only trained professionals should attempt to remove abandoned gear, especially nets. Boats are also regularly damaged by derelict gear, by getting tangled in propellers, rudders, etc. Boats have even overturned from becoming caught up in nets. Marine habitats, such as nearshore reefs, are severely damaged by lost gear. For example, when a net lands on a reef and rock area, it will trap sediment and essentially smother the ecosystem beneath it.
 Derelict nets have been found with piles of bones entangled in them.
How much derelict gear is in the Puget Sound?
Based on annual trawl surveys, the WA Dept of Fish & Wildlife estimates 117, 000 items, weighing 2.6 million pounds lay beneath the surface of waters in the Puget Sound and Hood Canal.
Why is there so much derelict gear?
Aside from that which is lost or forgotten, the nature of fishing means fishermen and fishing fleets routinely break or lose gear while working. The Puget Sound gill-net fleet reports 10-20% annual lost of gear. This is equal to about 300 full size gillnets lost each year, over the last 30 years.
What is being done and how can you help?
There are now official protocols in place to help remove derelict fishing gear from our waters. The first step is locating and reporting found gear, with if possible GPS coordinates. To report derelict gear go to the following website: www.derelictgear.org or call 360-428-1084.
Here is the link to NWSF Derelict Fishing Gear Facebook
NEW INFORMATION ON REDUCING CRAB POT LOSS! 
The Northwest Strait Foundation, with support by the NOAA Marine Debris Program, created action packed and informative short videos (1 minute each!) to instruct crabbers on using best fishing practices to reduce crab pots loss. Through use of social media, the links to the videos are readily available.
To find out more, go to the NWSF Recreational Crabbing Resources
Below are the videos on Youtube:
Tides and Currents: How to Set Your Crab Pot
Youth Education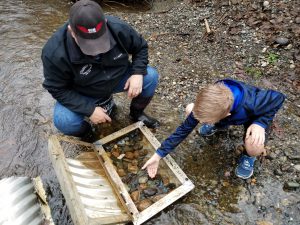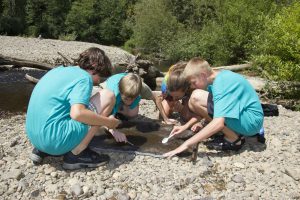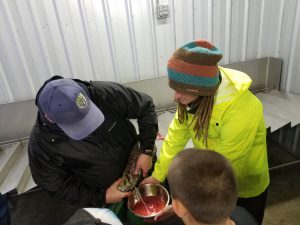 The Natural Resource Outreach and Education Program provides a variety of activities to the local public. These include educational venues such as hosting the annual Festival of the River, educational restoration-hatchery tours and lessons for adult stewards in training. We provide local K-12 schools lessons and field trips on salmon protection, climate change and watershed ecology. We are also involved with STEM and STEAM events in local schools in the watershed.
In addition, we host several stewardship/restoration events annually and provide the general public with natural resources education at local community events.
Classroom Lessons:
Get to Know your Watershed -  a place-based interactive lesson on watersheds that includes maps, watershed models and a discussion on water quality.
Standards for grades 4-5, EALR 1. Systems & EALR 4 Ecosystems.
The Energy of Estuaries -  a place-based interactive lesson on estuaries that includes energy transfer and structures and functions of living organisms. Also a good pre-lesson for the Iverson Bay field trip. Standards for grades 4-5, EALR 4. Life Science (structure and behaviors & Food webs) & Physical Science (energy transfer).
Salmon Life Cycle - an interactive lesson where the students present information on the different life stages of a salmon with an emphasis on adaptation. This lessons requires some pre-work in the classroom or 2 one 45 minute lessons.
Standards for Grades 4-5 EALR 4. Life Science (heredity and adaptation).
Protecting Our Salmon -  an interactive lesson that emphasizes stewardship, water pollution and ways that humans can improve the health of ecosystems.
Standards for Grades 4-5 EALR 4. Ecosystems
 Field Trips
Iverson Spit Preserve -  a full day  at Iverson Bay with hands-on activities and lessons on estuaries, wetlands, native plants, marine wildlife and tidal influences.
Harvey Creek Hatchery Tour  - a half day tour of the Harvey Creek Hatchery which includes stations on habitat, spawning, anatomy and watersheds. This is highly attended so it is best to contact us early.
Macros at Squire -  a half day at Squire Creek County Park near Darrington. Stations include macro collection & identification and a forest walk (native plants and trees).
Adult Education

Salmon Habitat Restoration Walks
Schedule a group visit to the Tribal Lower Pilchuck Park &  Wildlife Refuge.  Guided walks through restored riparian forest, stream, and wetlands in recovery.
Pacific Coast Salmon Presentation
A 90-minute presentation on Pacific Salmon, their status, cultural significance, life history and protection and restoration efforts. Includes live salmon and identification education.
The Cultural and Ecological benefits of Trees 
This 90 minute workshop teaches the cultural uses of our native conifers, tree identification and the ecological importance to salmon. Participants will take home aromatic tree oil that they will learn to make in workshop!
Marine Resources of Port Susan
A one hour slide show on the marine resources of Port Susan. The discussion includes beautiful pictures and information on the diverse plant and wildlife in Port Susan Bay. You will learn about the threats the estuary faces, what is being done and what citizens can do to help protect these important natural resources.
**  Please contact Tamara Neuffer at 360-547-2687 or email at tneuffer@stillaguamish.com for questions or more information.**
Outreach Events
The Natural Resource Education and Outreach Program is involved in a variety of activities. Our salmon educational programs reach into schools throughout the Stillaguamish Watershed and include in-class lessons, field trips and hatchery tours. You can find more information under education. Outreach activities include the annual Stillaguamish Festival of the River and Pow Wow, Arlington Eagle Festival, Snow Goose Festival and Arlington Arbor/Earthday Celebration. We host several stewardship/restoration/research events annually, and providing workshops and lessons for a variety of groups.
Staff also meet with landowners about land-use and water quality concerns. We arrange riparian plantings and help landowners apply for various government programs to assist landowners conservation, such as CREP (Conservation Reserve Enhancement Program). When appropriate we apply for grants to compensate landowners who for various reasons cannot reap the full economic value of natural resources on their land.
Please contact Tamara Neuffer if you are interested in more information at tneuffer@stillaguamish.com.
You can find us at the following events:
Arlington Eagle Festival With winter comes the return of the eagle to the Stillaguamish River. To celebrate these special winter residents, Arlington hosts an annual Eagle Festival on the first weekend in February. We welcome you to visit and enjoy this event, which includes guided tours, art and photography show, speakers, demonstrations, live music, wagon rides, and other fun activities.
The Stillaguamish Tribe is a proud sponsor of this event. Visit our booth to win prizes and learn about the important relationship between salmon and eagles. The eagles return to feed on salmon that have come to spawn in the clean river gravel. The eagle also prey on the snow geese that are feeding in the agricultural fields in the floodplain.
Always the 2nd weekend in August the Stillaguamish Festival of the River and Pow Wow!  Watch for details for this annual event sponsored by the Stillaguamish Tribe of Indians. The event takes place on the second weekend in August!
Check out our Annual Community Event--The 30th Annual Festival of the River and Pow Wow