Human Resources Department
Updated 9/6/2023
Join our team!
The Stillaguamish Tribe cares about its employees and strives to offer a fun, rewarding and safe working environment. Once you are part of our family, we want you to stay. We also believe that hard work and integrity should be rewarded. That is why our employees receive benefits that other companies may not offer.
The Human Resources department seeks to achieve the mission and goals of the Stillaguamish Tribe of Indians by hiring and retaining the most qualified employees to serve the growing needs of our company.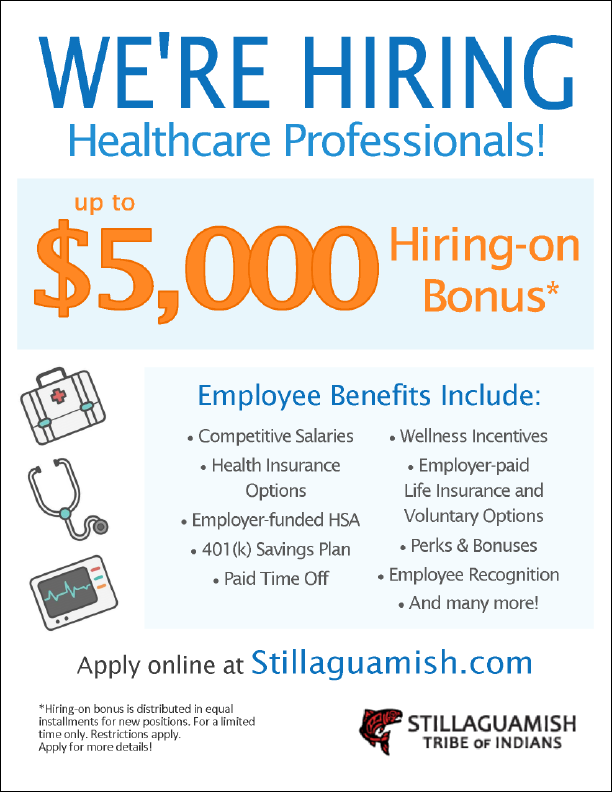 Benefits Include:
Up to $5,000 Healthcare Professional Hiring-on Bonus for Healthcare Job Openings at BHP, ICCS and Wellness Clinic**

Competitive Salaries
Health*
Dental*
Vision*
Voluntary Supplemental Life Insurance
401k Plan
Jury Duty Leave
Bereavement Leave
Reward Recognition Programs
Volunteer Opportunities
Ongoing Career Training
Health & Wellness Initiatives
Employee Assistance Program
Employee Discounts on Meals and Fuel at Angel Of The Winds Casino Resort
Opportunities For Advancement
We are a Drug-Free Work Place. Successful applicants must be able to pass background checks as well as a pre-employment drug screen.
* Eligible full time employees receive benefits effective on the 1st of the month after hire. Two plans to choose from - PPO and HDHP with a Health Savings Account.

**Healthcare Professional Hiring-on Bonus is paid in two halves – first half after 90 days and the second half after 180 days of successful employment.
The Human Resource Department Location and New Hire Process:
All positions with the Stillaguamish Tribe of Indians are Indian Preference in hiring, in accordance with the Tribe's hiring policies.
The Stillaguamish Tribe hires for the following departments:
Island Crossing Counseling Services (ICCS)
Behavior Health Program (BHP)
Wellness Clinic
Mental Health Program
Massage Clinic
Natural Resources
Fisheries
Hatcheries
Transportation Department
Courts and Justice
Legal
Smoke Shops and Convenience Stores
Stillaguamish Tribal Police
Auto Repair
Family Resource
Indian Child Welfare
Varied positions in the Stillaguamish Administration Building.
210 Cannabis Co
Application Process
Please review the information carefully to ensure you meet the qualifications before applying. Applications must include all required attachments and be filled out completely, even if you are attaching a resume. Please be sure to provide a valid email address and phone number with your application. Applications will be held for one (1) year.
Hiring Process
Below is a generalized description of the hiring process:
1. We receive applications and resumes for posted positions through our Stillaguamish Recruiter Box portal.
2. The hiring manager selects the most qualified applicants, and interviews are scheduled.
3. A candidate is selected and extended an offer of employment
In some cases, a few weeks may pass between the closing date of a position and the interview. Some employment positions generate a significant number of applications, so time frames are approximate. We thank you for your patience during this process.
The Stillaguamish Tribe of Indians is dedicated to thoroughly reviewing and considering all applications.
Background Checks
A background check and drug swab will be conducted prior to employment.
Machine Readable Files (MRF)
The Machine Readable File contained below is made available in response to the Federal Transparency in Coverage Rule and include negotiated service rates and out-of-network allowed amounts between health plans and healthcare providers.
The Machine Readable Files are formatted to allow researchers, regulators, and application developers to more easily access and analyze data.
Contact Info
If you have any questions for the Stillaguamish Tribe's Human Resources Department, please use the Contact Form for Human Resources Department to the right.
Stillaguamish Tribe Human Resources Department
Phone: (360) 652-7362
Fax: (360) 653-9121
Mailing Address:
Stillaguamish Tribe of Indians
Attn: Human Resources Department
3322 236th ST NE
Arlington WA 98223
Physical Address:
Contact Form for Human Resources Department